On behalf of Computing At School and the Network of Excellence
---
Lancaster University Computing at School Regional Conference
Wednesday Jun 15, 2016 from 9:30AM to 4:00PM
Hosted by CAS North West - Lancaster (Lancaster University)
This exciting event will be focussing on, amongst other topics, physical computing for primary and secondary teachers in and around the North West. There will be plenty of opportunity for hands on workshops for teachers to use a range of physical computing hardware. There will be an open room full of technology that you can play with throughout the day. 
Preview of the conference
Some of the topics that will covered on the day: the BBC micro:bit, drones, shrimp kits, Raspberry Pi, unplugged activities for primary schools.
Talks will be given by university lectures, PhD students, CAS Master Teachers and secondary and primary teachers working in the North West 
Once you sign up you will be given detailed instructions on parking and directions to the venue. Lunch is included as is tea and coffee on arrival. 
Below is the schedule for the day (subject to change)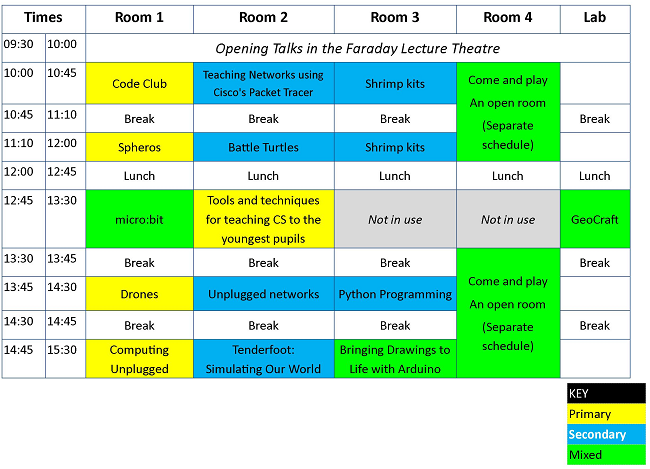 For further information: Lancaster University CAS Regional Centre, caslancaster@computingatschool.org.uk

Electronic Privacy
Computing At School (CAS) communicates with its interested parties by email. I understand that CAS will not pass on my email address to other organisations.

Data Protection Act 1998
CAS as part of the BCS Group will hold your personal data on its computer database and process it in accordance with the Act. This information may be accessed, viewed and used by CAS for administrative purposes and conducting market research. All of these purposes have been notified to the Commissioner. If you are based outside the European Economic Area (the 'EEA'), information about you may be transferred outside the EEA in accordance with the requirements of the Act.
Full legal and privacy notices: http://www.bcs.org/category/5655